ELATION WATER FALL 250 PRO Ripple Simulation Effect
250 Watt Ripple simulation effect, Simulate water, lava and 6 colors + white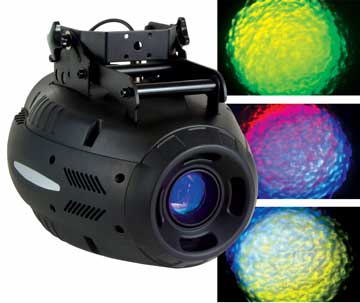 The all-new Waterfall 250 PRO features 20% more light output, plus the ability to create multi-color ripple effects, thanks to the addition of several thin multiple dichroic color filters to one of its slots. Other upgrades include a dimmer and remote focus.
A mood-setting effect that's ideal for nightclubs and dance floors as well as stage shows and theatrical productions, the Waterfall 250 PRO features six colors plus white and six split colors on textured glass wheels, which produce a water-like appearance when light shines through them. Users can individually control the speed and rotation of the Waterfall 250 PRO's two textured glass wheels.
When used without a DMX controller, the Waterfall 250 PRO features improved stand-alone controls that let users select the color they want and keep it static as long as they want it. They can also set the fixture to scroll through all the available colors at different speeds.
Features:
USITT DMX-512
6 DMX Channels
Dip swithches
3 pin XLR serial input/output
Sound active mode
High output luminous-parabolic dichroic reflector
45-degree beam angle
Anti-reflection coated lens
Barn Doors
5 dichroic Color filters + white
2 multi-colored segmented dichroic color filters
Various effect movement options
2 glass wheels, independent control
100% dimming
Motor driven focus from near to far
Phillips MSD 250/2 (250W, 8500°K, 3000 HRS)
1 x Heavy Duty yoke
1 x Safety cable hole
8A or 4A Fuse
Magnetic Ballast
Voltage: AC 98, 120, 208, 220, 230, 240V 50/60Hz
Power Consumption: 400W